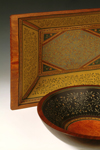 Please CONTACT us to request information on specific pieces- just reference the NAME, SIZE and SHAPE of the bowl from the gallery page. General inquiries about price and availiblity are always welcome. Feel free to CONTACT us.
TO PLACE & FINALIZE YOUR ORDER:
Please CONTACT by e-mail or call with the shipping address and payment info. Purchases may be made with Mastercard, Visa, Check or Money Order. We do ask for a 50% deposit.
For CC processing, we need FOUR bits of info:
1)Credit card#
2)Exp Date
3)Three digit code on back of card
4)Zip code associated with the credit card
You are welcome to call us w/this info, if you aren't comfortable sending it by e-mail. If we are out of the workshop, and you reach our voice mail, feel free to leave a message- Only the cat will hear it, and she is very discreet.
860 364-9866
Checks may be made out to Shaari Horowitz and sent to
195 Low Road
Sharon, CT 06069
Shipping costs differ according to location and method. We usually use USPS and insure the bowls, unless you prefer a different method.
The balance plus shipping cost is due upon the completion of the bowl.
An e-mail with the expected arrival date will be sent out as soon as the bowl ships.
These bowls are hand made, and each labor intensive piece is basically a one-of-a-kind, so size and color may vary slightly.
Bowls may be available for immediate purchase, or made to order. Ordered bowls usually take between four and six weeks to complete. Please inquire about rush orders, if needed. In-stock pieces may be purchased and shipped immediately.
Bowls may be exchanged for another bowl of equal or greater value within 10 days as long as the bowl is in perfect condition upon return to the studio. Please notify us if you'd like to make an exchange.
We also sell these pieces high-end craft shows across the country. Please see the SCHEDULE page for the current show calendar.
CARE: Easily care for them by wiping them with a damp cloth- no scrubbing. They should not be immersed in water. They come with simple care instructions, and, if followed, should last to become heirlooms.
USE: We layer the bowls with many coats of a tough, clear, FOOD-SAFE finish.
They may be used for bread, fresh fruit, popcorn, etc. Salads are ok if you don't dress them. (Vinegar might damage the finish)
*Metal utencils and knives may scratch the finish. They are best used with warm and cool food. When in doubt. put down a cloth napkin.
Other uses: mail, gloves and scarves, knitting and yarn, halloween candy; a favorite use was shared by a collector whose cat loved to sleep in her large round bowl!
OR: Display them decoratively and let then make their own statement! Sit the bowl flat on a horizontal surface, in the traditional manner, or display them upright. Beautiful wrought iron stands, custom made for these bowls are available for purchase at $35. These stands allow your bowl to be viewed upright, and are perfect for mantels, shelves, cabinets and table-tops.